Giuliana Rancic – Entertainment Journalist
Giuliana Rancic is a entertainment television journalist most known for her work on The E! network. In her new memoir, Going Off Script, Rancic reveals she was diagnosed with scoliosis at the age of 13.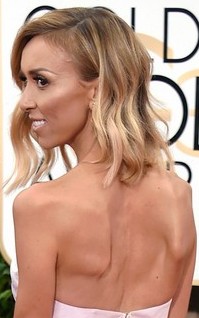 Guiliana received spinal corrective surgery at the age of 21 which left her with a permanent scar and "bony" shoulder blades.
"I endured a lot of pain having scoliosis. I went through high school in a body cast and this caused me to lack self confidence. During senior year in college, I underwent surgery in which two rods were inserted beside my spine. I was hospitalized for three weeks and was under bed rest for three months."
"I always tell girls, whatever struggles you go through as a young woman, those are the things that become your power later. Even though it's painful to think back on, I wouldn't change a thing. Because everything I went through as a child got me to where I am today."
"Although living with scoliosis was tough, it made me stronger and pushed me towards attaining my dreams. I believe your flaws help mold your personality and determination. I watched news programs hosted by women and found them very interesting. I use to envision myself as a TV reporter, practicing in front of the bathroom mirror. I would line the door with a thick towel so my parents wouldn't be able to hear me goofing around. Over time, I developed confidence and this inspired me to pursue a TV career."